Custom Homepage Templates
---
Your mobile app should complement your website and help you reach your business goals. With customizable homepages, you can choose whether to put content directly into your app or link your app to your website (or a combination of both!). Define what is most impactful for your business and start strategizing. Have an upcoming event you're selling for? Make sure it's on your first homepage. Trying to push online rounds? Allow users to get to your tee times from every homepage. Below are a few standard template blocks to make your onboarding process swift and easy. Choose one or more for each homepage to get stared. Your homepages are dynamic and can be changed, just like your day to day business. Reach out to our team to learn more about our custom app solution!
Homepage Blocks
Gallery
Share imagery with your golfers, whether it be each hole on the green, or unique pro shop items for sale.
Action Links – 2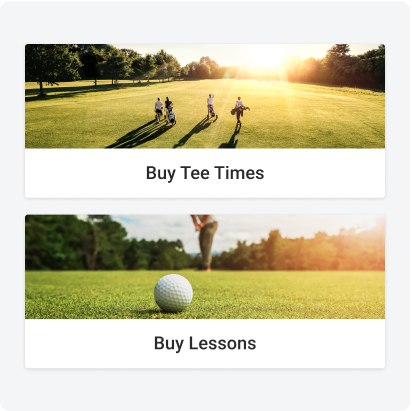 Direct users to different app pages, or your website. Ideal for tee times, your online store, or your food and beverage menu
Action Links – 4
Perfect for apps with several courses, each content box can direct users to a specific course's tee times
Header with Gallery
Add supportive text to complement your gallery of images. Enable this content to be clickable for extra engagement.
Contact Us
We recommend this content always be available on at least one of your homepages. Don't make your golfers go searching for your address!
Promotion – Action Button
Get eyes on your events by utilizing action buttons, driving users to sign up.
Description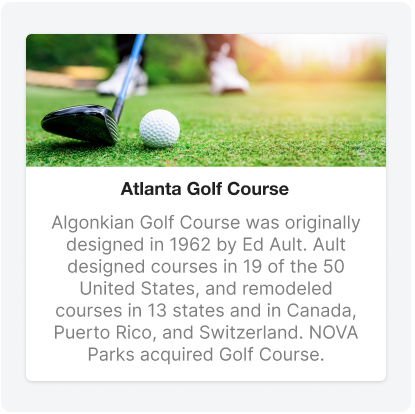 You can't go wrong with a hero image, header text, and body text! Use this for need to know information, like how to get to the course, or onsite instructions once golfers arrive.
Description – Action Button
Designed to draw users away from your app to content already on your website, place your monthly newsletters here for all app users to easily access.  
Text – Action Button
Highlight your essentials, such as tees or driving range rates, with a link to purchase.